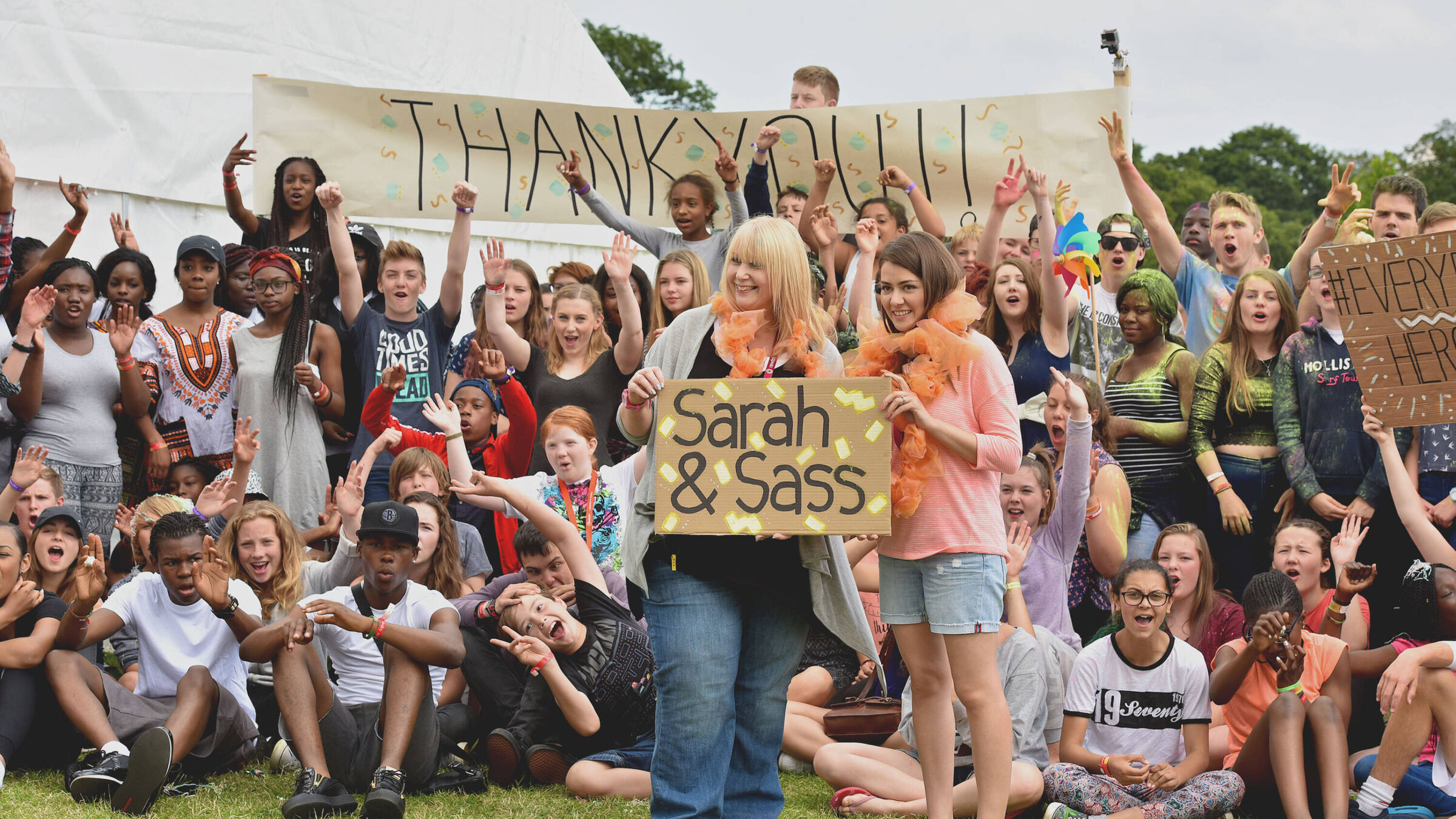 It takes around 1000 volunteers to help make Newday happen. Here's your chance to get involved and help to make this year's event a success.
To be on team at Newday you need to be 19 or over (by 31 August) and obtain a DBS certificate through Newday.
Team arrive onsite the day before the event starts (Sunday 31 July) to help put the finishing touches to their areas and to be trained and briefed on their specific roles, and leave site after all the delegates on Saturday 6 August, once the site is set down.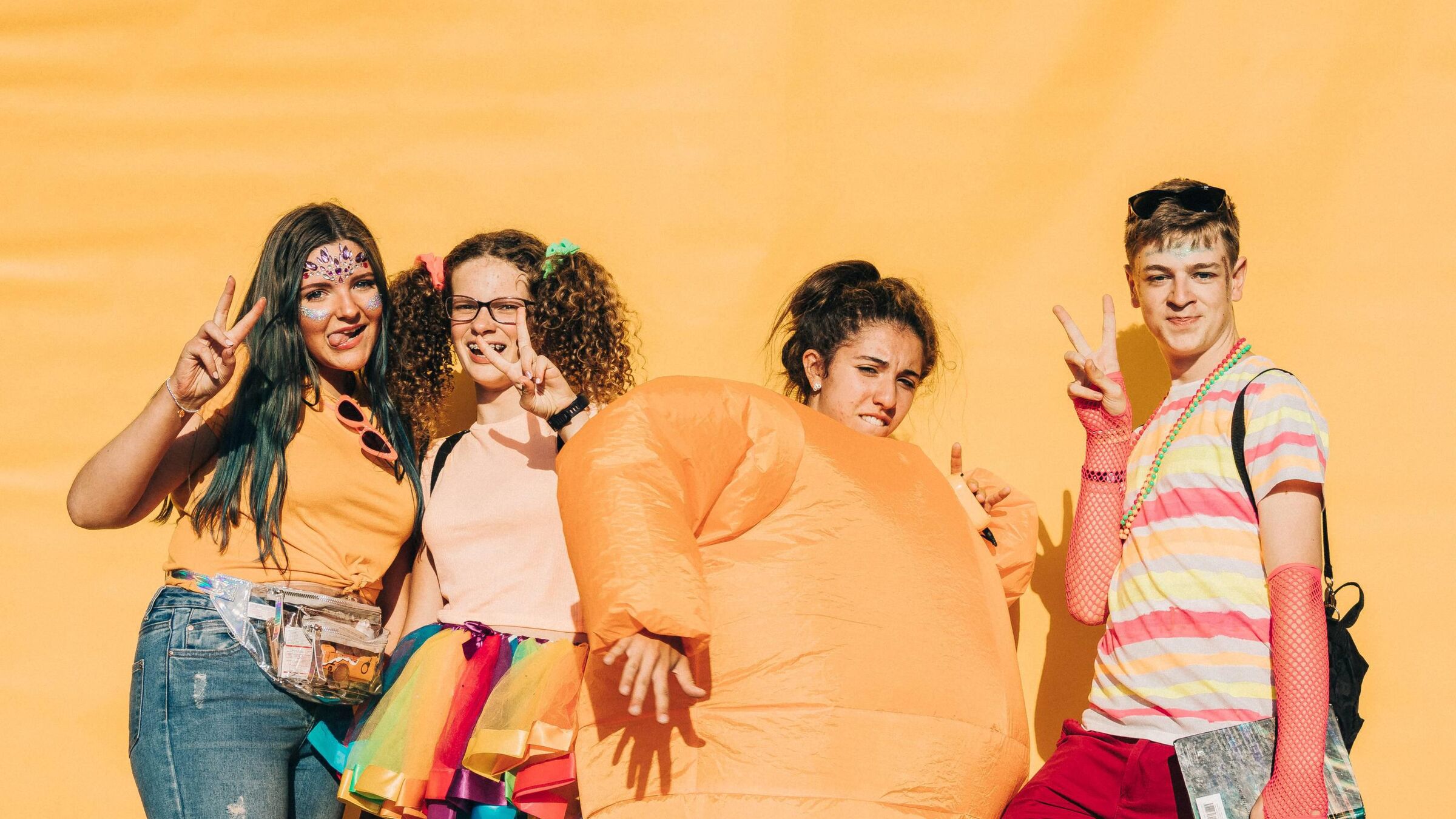 NEWDAY GRADUATE TEAM: NEW FOR 2022!
Would 2020 or 2021 have been your last year as a delegate at Newday? Are you turning 19 or 20 by the end of August? Because you missed your last year of Newday we are offering you the Exclusive opportunity to come to Newday one more time!
Tickets are half the standard price (£75, discount applied when team is selected). You'll get the best of both worlds, serving part time and being able to attend all the main meetings as a delegate would, plus we'll feed you at no extra cost and there will be content just for you! Scroll down to see the teams you could join below.
You'll need to be available to come to site on Sunday 31st July. We only have a limited number of spaces available for Newday Graduates so book early to avoid missing out. You'll need to select a 'Newday Graduate Team Member' ticket on the booking system and make sure you select to serve part time. You'll still need to add a DBS application to your order on the 'extras' page but won't need to add a meal ticket.
If you'd like to be on team for setup and/or take down and get the full Newday experience, you can select this too.
Setup Teams
There's a real buzz about the site during Setup. It's hard work, but great fun to see the showground take shape. Why not choose from the options below and join us?
There's no discount on delegate fees if you are only on team during Setup, but we'll feed you three meals a day for free. Please note that bookings for Setup Team closes at midnight on Sunday 24 July. You're welcome to serve during Setup if you book after this deadline, but we won't be able to provide you food.
We also have daily services for team during setup week where we worship, hear from the word of God together and pray for one another. These are powerful times of encounter as we serve a God who doesn't just show up for the main event! We get the joy of preparing the site for the 1000s of young people who will descend upon it both physically and spiritually and often some amazing stories come out of being involved in pre-week.
Setup Catering
Be part of the team preparing food for our hard workers serving at Newday. If you have a catering background, great! If not, we don't mind – a willingness to get involved is even more important. You'll need to be able to arrive to start work in the morning on Thursday 28 July.
Setup Marking Out
Fancy painting white lines across the showground's green grass? Marking out will suit you perfectly. This team divides up the showground into a clever map of zones and camping sites using just white paint - amazing! Full training will be given for this essential role. You'll need to be able to start work on Wednesday 27 July.
Site Setup
Join the huge buzzing team that gets the site ready for the event. We need loads of willing volunteers to help with marking out the camping site, carpeting the seminar venues and Big Top, laying trackway, putting up fencing, hanging the drapes and dozens of other essential tasks. You'll need to arrive in time to start work in the morning on Thursday 28 July, although we'll happily accommodate late-comers if you let us know.
Setup Supplies & Resources
If you're aged 25 or over and have a clean driving licence, why not volunteer to join the team that sorts the supplies for Newday? From unloading the containers to collecting stationery orders and all sorts in between. You'll need to be able to start work on the morning on Thursday 28 July.
Take Down Teams
Once the event has finished we need to return the showground to the way we found it (more-or-less). Help us make this happen over a couple of days following the last day.
There's no discount on delegate fees if you only serve during Take Down, but we'll feed you three meals a day for free.
Take Down Catering
We feed everyone who stays on site to help us pack up after Newday – so why not stay and help our amazing chef and the team to pack down the kitchens?
Site Take Down
It takes from Saturday morning to Sunday afternoon to dismantle the whole of Newday! From taking up carpets and packing up venues to blitzing the amenity blocks and litter-picking the site, we're proud that our Take Down teams leave the site in better shape than we found it. Everyone mucks in and there's plenty to do – but we'll feed you well, and you'll be amongst friends. If you can spare an extra 8, 24 or even 36 hours after the event, please do – it's a great opportunity to honour our hosts at the showground.
Main Event Teams
All our teams that run during the main event are listed below. To get involved in some of our other teams, you'll need a team code from your team leader.
Main Meetings
12-14s Team
The 12-14s team will look after a small group of 12-14 year olds in their morning meetings. Get to know your group, pick up on pastoral issues, be on hand to help with prayer ministry during their meetings/seminars and play silly games!
Kids' Work (part-time, 50% discount, option for Newday Graduates)
CURRENTLY CLOSED FOR APPLICATIONS
These vibrant teams take care of and teach the younger children who come to Newday. There's a special programme for those aged 3-11 years every morning, split into three age groups (3-4s, 5-7s and 8-11s), primarily to release parents to serve in other areas of Newday or to be on site for delegates from their church group. If you enjoy working with children, these teams can use your help.
Cafes (Full Time, option for Newday Graduates)
CURRENTLY CLOSED FOR PART TIME & GRADUATE APPLICATIONS, FULL TIME AVAILABLE

We've an assortment of busy and lively cafes at Newday, each with a different feel and theme. Perhaps you'll prepare milkshakes in The CowShed, draw the perfect cappuccino in YTH CLTR, or join The Depot (which also hosts our bookshop), The Lounge or TheCommonRoom. Choose this option to join our busy cafe community and we'll sort who goes into which team before we head to site.
Catering Team (Full Time, option for Newday Graduates)
From the beginning of Setup to the end of Take Down, this team prepares and serves around 5,000 meals to the hungry workers serving Newday. Food close to your heart? This team needs you!
Cleaning Team (Full Time, option for Newday Graduates)
We need both guys and girls to join this team which takes on the essential task of keeping our amenity blocks sparkling and well-stocked, plus some litter picking. You'll work in small teams in shifts and you can choose whether to work full- or part-time. And, of course, you get to ride the famous Newday buggies!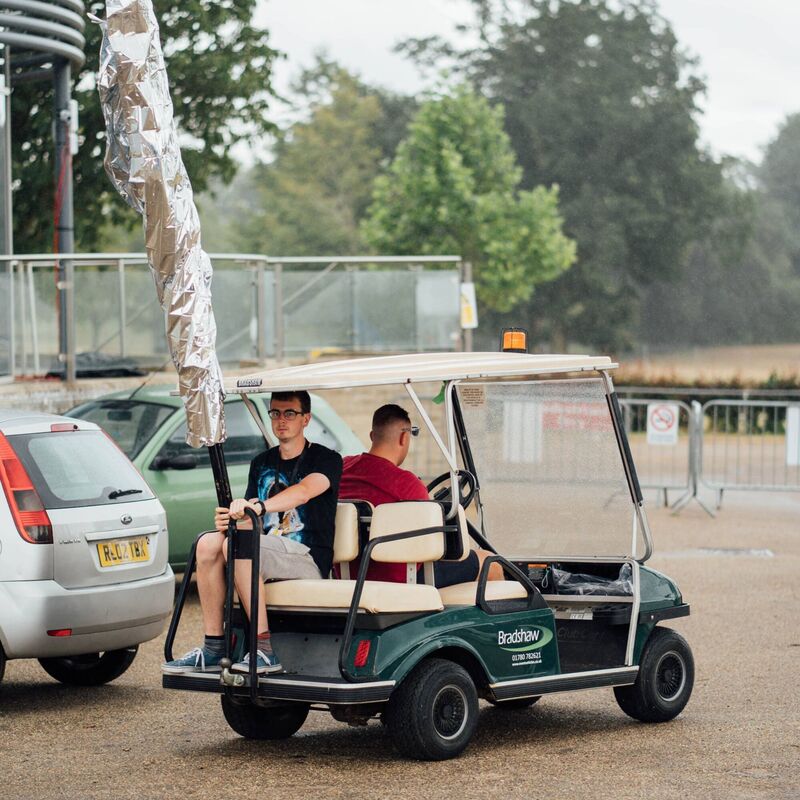 Site Facilities & Maintenance Team (Full Time)
If you like variety, hard work and lots of laughs then this is the team for you! There's a whole heap of things that need loading, recording, mending, sticking, taping, checking, unblocking, fencing and unloading. If you are practical, or able to use your initiative and improvise, then this team has your name on it.
We need both ladies and gents for loads of different jobs, especially those who would like to use their DIY experience, and we're always on the lookout for skilled plumbers and carpenters that can help us too. You'll work in small teams in shifts, so there is bound to be a time that will suit you.
Steel toe-capped shoes would be a definite advantage but all other personal protective equipment will be provided.

Stewarding (full or part-time, option for Newday Graduates)
CURRENTLY CLOSED FOR GRADUATE APPLICATIONS
Play a vital role in the smooth running of the meetings at Newday! This responsible role involves ensuring everyone on site is able to participate in all areas of the event without disturbing others and whilst maintaining delegate safety and compliance with site rules.
You might find yourself welcoming delegates to the main meetings or perhaps being responsible for a seminar venue. If you like meeting people, can anticipate their needs and are good at problem-solving, you'll love this team – and it's a great way to work and still participate in the meetings and seminars.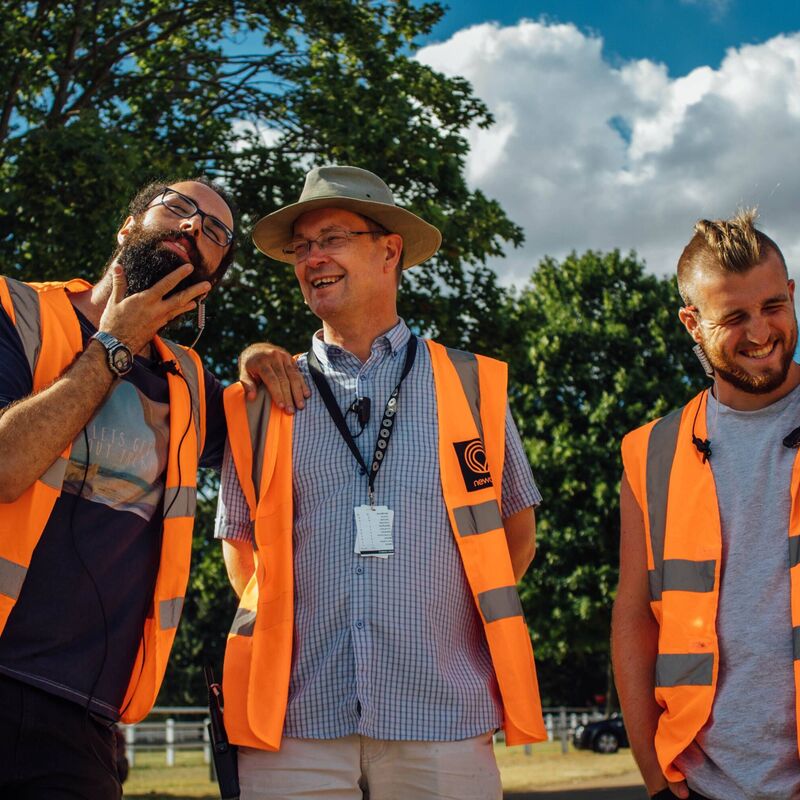 Newday assist look after the smooth running of the campsite and the safety of the young people throughout their time at Newday, 24 hours a day!
Year after year we have people telling us how much they have enjoyed being a part of the Newday Assist team having encountered God and seen the blessing of serving Him in this context.
There are 3 Teams that we need help with:
Day Team (Full Time, option for Newday Graduates)
These are the guys and girls looking after the safety and security of the 7000 or so Young people who like to have fun at Newday during the daytime. They are the face of Newday: helping lost young people find their way around, ensuring vehicles are keeping to speed limits, and ensuring incidents are avoided.
Night Team
These heroes are the ninjas of the night and forgo their sleep to ensure the young people are safe while they sleep. They are experts in what to do with sleepwalking young people or just those going for a romantic midnight stroll...
Welcome Team (Full Time, option for Newday Graduates)
You'll be the first friendly face people see as they arrive to Newday either on arrivals day or during the week. You'll be responsible for making sure delegates, contractors and guests get the full Newday welcome and are processed to get into site efficiently. If you're organised, friendly and have a warm smile this team is for you!
Sports Teams (Full Time, option for Newday Graduates)
CURRENTLY CLOSED FOR PART TIME & GRADUATE APPLICATIONS, FULL TIME AVAILABLE

Newday delegates work hard and play hard! Join the teams which run the active programmes for the week. Get involved with supervising sports sessions, organising tournaments and competitions, refereeing events and making sure everyone has a fun, safe time at Newday. We'll give you a 50% discount on fees.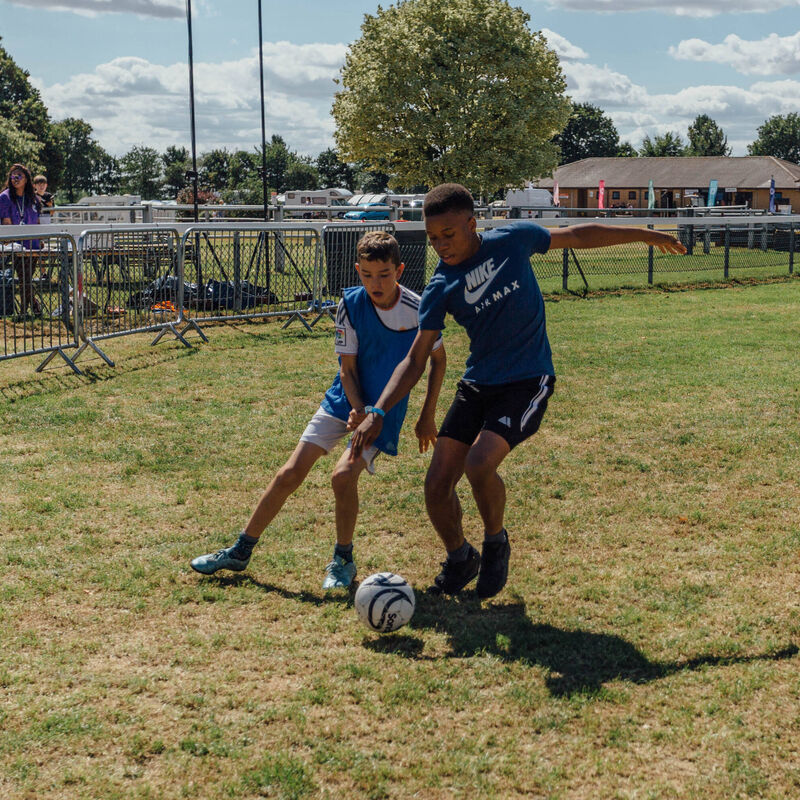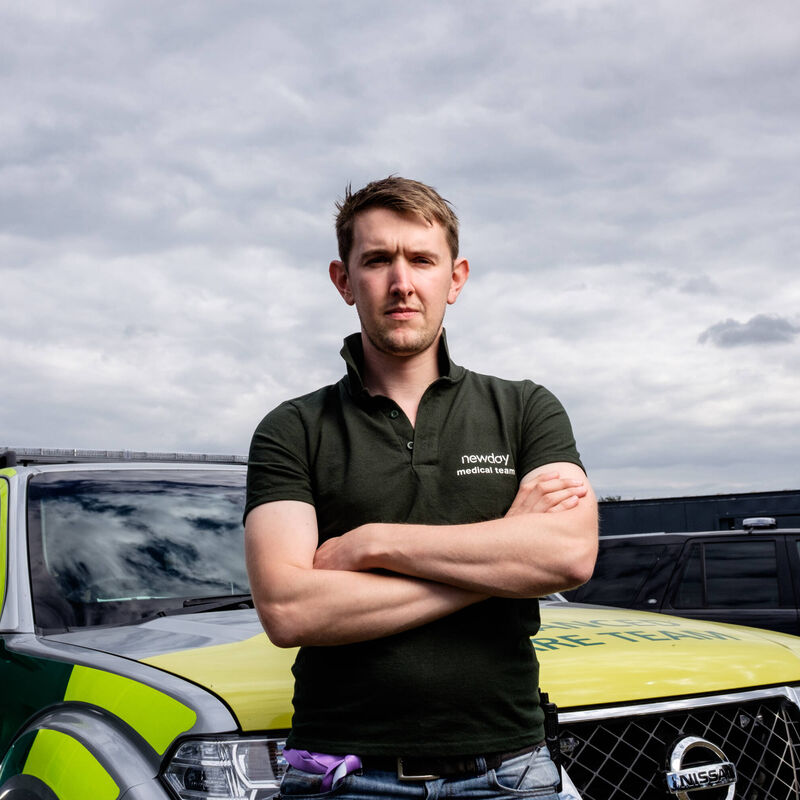 Medical professionals
Our medical cover during Newday is provided by specialist medical professionals. If you're a qualified doctor, paramedic or registered nurse practitioner (A&E, paediatric or practice) or registered nurse (any branch, but interested in young people!) and would like to serve in this way, please get in touch. We'd love to have you as part of the team.
Telehandler forklift and flying carpet operators
For Setup and Take Down we need volunteers skilled in using flying carpets and/or a telehandler forklift (either 9m/3 ton or 17m/4 ton reach/capacity). If you might be able to help or know of someone in your church who might be able to (even for part of the time) please let us know.
Firefighters
Our Health & Safety team includes highly experienced and qualified professionals to ensure you enjoy a safe week at Newday. We'd very much like a firefighter in current service to join this team. If you fit the bill, we'd love to hear from you!
Newday Creative
Filming, photography, writing and journalism all are areas the creative team cover. If you are currently studying or working in these areas we'd love you to come along and volunteer to be part of this exciting venture.
Camera Operators
We need a team of people who have experience operating cameras to be part of our production team to help produce the live feed which runs on the screens throughout the main meetings. If you have experience in this area, we would love to hear from you.
Ministry Teams (Full Time)
Praying for your young people at Newday
If you're the lead Youth Worker for your church group, you will be able to collect prayer wristbands for those adults from your group who you've nominated to pray for your own young people at Newday. We hope this will help you to get members of your team engaged in response times with your young people.
Ministry Team (red caps)
Of course, we still have an active ministry team (the red caps) to pray with young people during ministry times. Those joining the Ministry Team commit to praying for young people during both main meetings and seminars, and should book a team member (server) ticket and choose the Ministry Team from the dropdown list of full-time team options. Like all our main event servers, they'll need a Newday DBS certificate and a church leaders' recommendation. As full-time servers, Ministry Team members come to Newday for free.
Don't Mind!
If you are just willing to give your time to any team then you would be most welcome. Please indicate this when booking in.