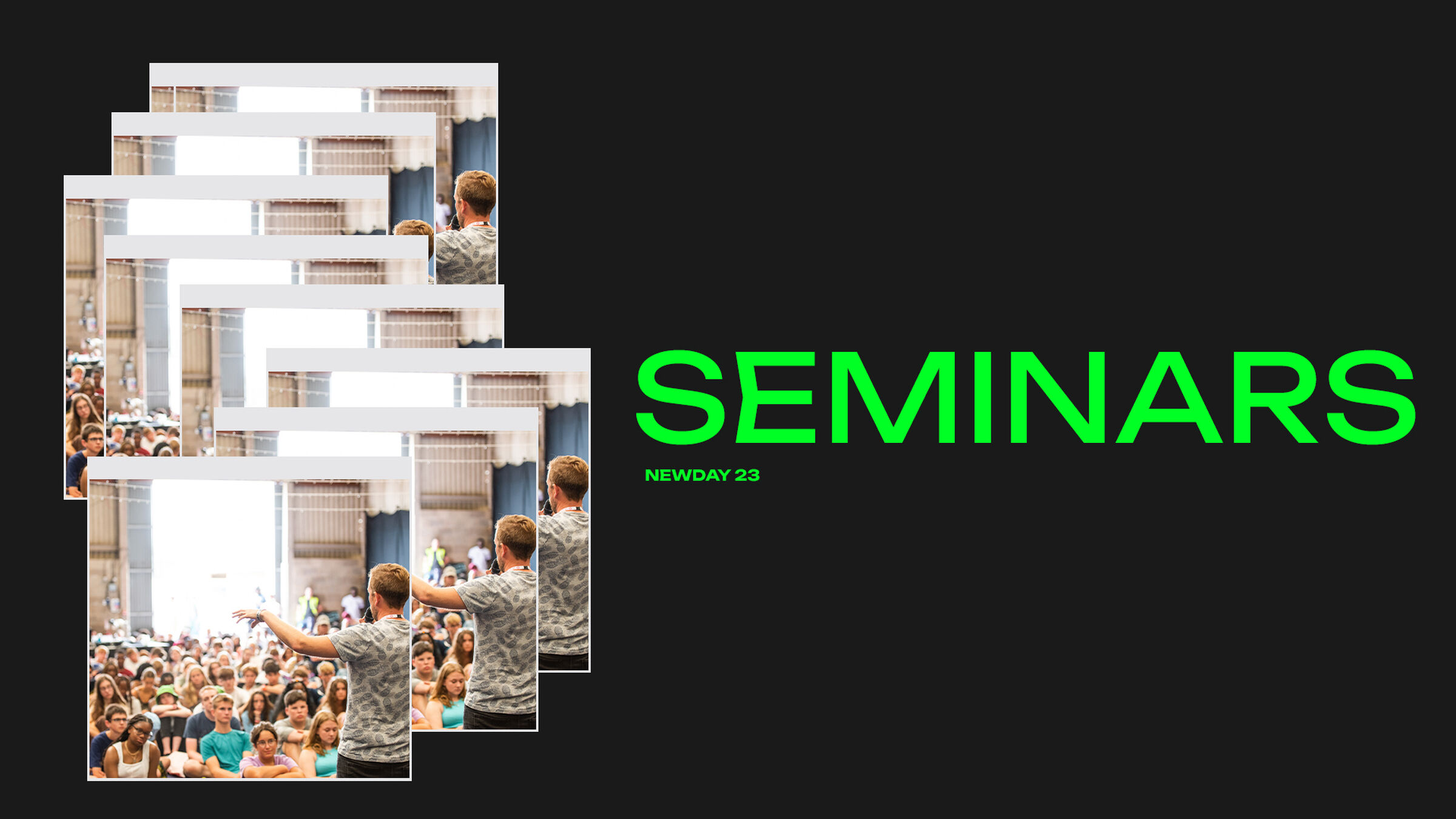 ND23 Seminars
—
Blog
9 minutes minute read
We have a great lineup of seminars for you at ND23. Here's the full list...
***Big Issues (Big Top) // Host: Adrian Holloway and Stacey Meredith
The biggest issues in the biggest venue (= the big top!)! In this blockbuster seminar stream, we tackle the most controversial, contentious and relevant questions which impact you & me in real life today.
Tue: No Sex 'til I'm Married? // Bobbi Kumari
Converted from a Hindu background and based in London, Bobbi Kumari is an international author, speaker, teacher, podcaster and founder of Living in Light, who says she "spent years looking for intimacy in all the wrong places."
Wed: Is Christianity A White Man's Religion? // Clare Williams
Clare Williams is a graduate of Oxford University, and in her ministry GET REAL, she tackles some of the strongest challenges to Christianity, especially in the context of racism.
Thu: Why Believe In God In A Scientific Age? - Andrew Wilson
Andrew Wilson is a theologian, columnist, and teaching pastor at King's Church London, and has written many best-selling books including "Incomparable" and "God of all things".
Fri: Why Does God Allow Suffering? // Adrian Holloway
Adrian Holloway is Senior Pastor at The Beacon Church, Camberley and founder of The John 3:16 Trust, through which, Adrian seeks to answer the best objections to Christianity.
***Youth Alpha (The Venue) // Simon Munsie
Ever wondered about something but never had the space to explore it? Well, never fear - Alpha is here! Join us, ask questions with us and explore life with us. No judgment, just space to hear and be heard.

Tue: Is there more to life than this? // Dan Blythe
Wed: Jesus: Who Is He?
Thu: Why did Jesus die?
Fri: How Can I Have Faith? // Simon Munsie
***Real Life (Engage Tent) // Hosts: Femi Koleoso & Sara Osaya
Equipping you with the tools you need to thrive in the middle of life's everyday battles
Tue: Don't Want To Drift // Tobi Adenaike
I'm so good at being a Christian at Newday. Then life happens and I fall off. How to put a stop to that vibe?
Wed: Feeling United // Farriea Fernandes
I know we're a chosen generation and Jesus is my best friend, but the pain of discrimination, racism, feeling alone, feeling outside is tough. How do I feel connected all the time?
Thu: Prayer is a weapon // TJ Koleoso
I'm losing this lust/porn/sex battle. I know what the bible says but It just feels like a strong hold and a chain. How to break out of this cycle?
Fri: I In The World But Not Of It // Femi Koleoso
How do I party hard but still represent Christ? I don't just want to be a Sunday Christian but Friday night is tough. Do I stay at home all my life, or is there a way to be outside but not lost?
***Living Out: Real-Life Stories from Gay Christians (The Lounge) // Hosts: Andrew Bunt & Anne Witton
Drawing on the stories of gay Christians, we aim to help you to see the credibility of the Bible's teaching on sexuality.
Tue: Anne: 'The Bible has good news for me' // Anne Witton
Anne is based in Newcastle, is the Content Director at Living Out, a missionary with the local church, and part of an all female Samba drumming band.
Wed: Jeanette: 'Singleness is a good gift' // Jeanette Howard
Jeanette Howard is an author and speaker encouraging people's growth in and dependence on the Lord. She loves all animals and enjoys gardening.
Thu: Andrew: 'Jesus helps me be true to myself' // Andrew Bunt
Andrew is a speaker and writer and a lover of musicals and Downton Abbey.
Fri: Ashleigh: 'Following Jesus is worth it' // Ashleigh Hull
Ashleigh is a youth worker, a book lover, and drives what is basically a party bus.
***Think! - Understanding life in the light of Christ (The Depot) // Hosts: Matt Fell & Amiola Chainani
Faith in Jesus should open our minds and fill them with life. Don't just buy into the hot (or not) of our culture, have the mind of Christ and show the world the wisdom of God
Amiola Chainani is a youth leader at Crown Church Hillingdon. She's just finished a year on the ID internship.
Tue: Mystery isn't a dirty word // Matt Fell
Matt Fell is an elder at City Church Cambridge, runs the ID internship course, and is a PhD student at Cambridge University.
Wed: Truth can change the world // Ben Virgo
Ben Virgo is Director of Christian Heritage London and involved with a church plant in East London.
Thu: It's okay to ask the hard stuff (really) // Clare Williams
Claire Williams is the founder of Get Real, a charity that helps people get honest answers to tough questions about Christianity. She's a gifted speaker and has degrees from Oxford and Birkbeck, University of London.
Fri: Unfiltered Faith: fresh eyes for culture and social media // Katherine Brown
Katherine Brown first heard about Jesus at university, and since then has worked with students to equip and train them to share the gospel on campus.
***How to Human (The Cowshed) // Hosts: Stuart and Melanie Crane
We believe God is wanting to speak into well-being and what it means to be fully human HE is saying it's time for us to understand that Jesus is the well being and knows how to human! AND so to be truly well and to be truly human we need to be found in HIM and follow HIM.
Tue: Jesus: the well being // Stuart and Melanie Crane
Stuart and Melanie lead Real Life Church in Sutton Coldfield. Stuart loves to preach and teach from the Bible and is a die hard New England Patriots fan. Melanie is a Prophet who loves to help people see Jesus and you will find her most days outdoors with a large hot chocolate!
Wed: Jesus, Me & My Mental Health // Joel Harris
Joel heads up the Youth & Student stream of our wellbeing groups, he is passionate about seeing his generation be freed from the shackles of poor mental health. When he is not working you will find him with a book in a coffee shop.
Thu: The Holy Spirit: Our Helper // Neal and Sonya Chitty
Sonya is passionate for Jesus and His bride and is at her best when taking Holy Spirit led risks and operating in the prophetic. She works for the NHS and loves being a wife to Neil and a mum to two great teenagers. Neil loves seeing others discovering who they really are in Christ and finding freedom. He leads a church in Harpenden, Herts, alongside Sonya.
Fri: Unfiltered Faith: My Father: I Am Who You Say I Am // Charlene Fammingham
Charlene is a South African living in Bedford with a heart for the nations. She has a passion for hearing the voice of God and seeing people come into freedom and healing. She loves her family of 3 sports fanatics!
***What's the Point (12-14s) (Indoor Sports) // Host: Kathryn Segal
Tue: What's the point… of Church? // Martin Segal
Why do we need to be part of Church? What even is it and why does it matter?

Wed: What's the point… of Prayer? // Wendy Stevens
Is prayer just something to do before we eat or in a church service? What even is it and what difference does it make?

Thu: What's the point… of Telling Others? // Sanjeev Manaktala
Being a Christian is hard but when it comes to telling others about Jesus it so often feels like Mission Impossible. Why should we both and why does it matter?

Fri: Guys Seminar // 12-14s team and friends
Calling all 12-14s boys, this is a chance to ask any question. Come and join us and bring your questions.


***Everyday Living (12-14s) (Metaverse) // Hosts: Ysabel & Carolyn Bain
Tue: Should I love myself? // 12-14s team and friends
Is it wrong to want to live a soft life? Does self-care mean you're selfish? Can I follow Jesus and put myself first? Our panel of "non-experts" have come together to hear your questions and offer their thoughts about self-love, self-care and what the Bible says about it.


Wed: Should I stay single? // 12-14s team and friends
What's the big deal with dating? Should I be in a romantic relationship? Can I really be happy if I'm single? Our "non-experts" will be answering all your questions on how to navigate life as a single person, as well as doing a deep dive into whether or not we really need to date at all.

Thu: Should I be masculine or Feminine? // 12-14s team and friends
Does the Bible care about gender equality? Should men be feminists? Are women becoming too independent? Our "non-experts" are ready to listen to all your questions about masculinity, femininity, gender equality, and everything in between.

Fri: Girls Seminar // 12-14s team and friends
Calling all 12-14s girls, this is a chance to ask any question. Come and join us and bring your questions.
***Young Living Translation (15-19s)(The Common Room) // Host: Elwin Lartey & Eugene Ekuban
Discussions for older youth around life choices and scripture. Learn from one another and from God's word about the important choices we all face.
Tue: Making your faith personal // Eugene Ekuban
Wed: Having the faith to move // Elwin Lartey
Thu: Relationships and friendships // Lauren Windle
Fri: Working in the secular world // Dan Curzon
***Newday Next (18-25s) // Host: Tim Simmonds & Jo Simmonds
Newday Next is about having a massive vision for following Jesus when you're 18+
Tue: Pray Big // Hannah Knight
Wed: Confident Faith // Tom Scrivens
Thu: You can Lead // Katherine Brown
Fri: Go Far // Andy McCullough
***Youth Culture (Youth Culture Venue) // Host: Bex Morgan & Tex
A series of talks for all adults at Newday.
Calling all youth leaders. Responding to issues facing our young people can feel a little daunting, especially in the current climate. We're here for you! Join us for some equipping and encouragement on the issues you're facing with your youth group.
Tue: Empower Connections: Nurturing Healthy Romantic Relationships in Youth Work
Wed: Empower Hearts: Training in Emotional First Aid for Youth Leaders // Sylvia Ampaw
Thu: Empower Minds: Prioritising Mental Health & Young People // Joel Harris
Fri: Empower Teams: Leading with Impact in Youth Work // Bex Morgan & Tex